Psychosocial factors and their role in chronic pain: A brief review of development and current status
Chiropractic & Osteopathy
2005
13:6
Received: 09 April 2005
Accepted: 27 April 2005
Published: 27 April 2005
Abstract
The belief that pain is a direct result of tissue damage has dominated medical thinking since the mid 20th Century. Several schools of psychological thought proffered linear causal models to explain non-physical pain observations such as phantom limb pain and the effects of placebo interventions. Psychological research has focused on identifying those people with acute pain who are at risk of transitioning into chronic and disabling pain, in the hope of producing better outcomes.
Several multicausal Cognitive Behavioural models dominate the research landscape in this area. They are gaining wider acceptance and some aspects are being integrated and implemented into a number of health care systems. The most notable of these is the concept of Yellow Flags. The research to validate the veracity of such programs has not yet been established.
In this paper I seek to briefly summarize the development of psychological thought, both past and present, then review current cognitive-behavioural models and the available supporting evidence. I conclude by discussing these factors and identifying those that have been shown to be reliable predictors of chronicity and those that may hold promise for the future.
Keywords
Acute Pain
Anxiety Sensitivity
Phantom Limb Pain
Somatization Disorder
Yellow Flag
Introduction
There is an increasing interest and acceptance in psychosocial factors and their correlations to the onset and outcomes of acute pain episodes. This review will briefly review its evolution and summarize the past and present theoretical models in relation to low back pain (LBP). Psychlit, MEDLINE and medindex searches were conducted to identify relevant articles with the search words 'psychological factors, chronic/persistent pain'.
Current theoretical models
A substantial number of acute painful musculoskeletal injuries do not resolve quickly and account for the majority of the associated costs [13]. Early intervention appears to result in improved outcomes [14]. Consequently, it is not surprising that the on-going evolution of the understanding of the non-physical aspects of pain has been applied to the areas of screening for, intervening in and predicting those at risk of developing into a chronic and disabling situation [15, 16, 33]. The recent New Zealand Government review into LBP, its subsequent published guidelines, and resultant growing acceptance of the "Yellow Flags" concept is a pertinent example [17–19]. Variables such as attitudes, beliefs, mood state, social factors and work appear to interact with pain behaviour, and are cumulatively referred to as psychosocial factors. However, to date there has not been developed a comprehensive, multivariate and empirically supported Integrated Biopsychosocial Risk-for-Disability Model. During a plenary session at the Forth International Forum on LBP Research in 2000 [20] Pincus et al amalgamated the Cognitive and behavioural thinking and proffered the closest structure yet to such a model. It has sought to incorporate many of these factors, and as such offers a structure from which to review these psychosocial factors.
The cognitive-behavioural researchers in the late 20th century noted that acute pain was associated with a pattern of physiologic responses seen in anxiety attacks, whilst chronic back pain was characterized more effectively by habitation of autonomic responses and by a pattern of vegetative signs similar to those seen in depressive disorders. One of the prominent researchers, Waddell, noted that one of the striking findings was that "fear of pain was more disabling than the pain itself" [21]. As a result the notion that reduced ability to carry out daily tasks was merely a consequence of pain severity had to be reconsidered. Several studies have indicated that pain-related fear is one of the most potent predictors of observable performance and is highly correlated to self-reported disability levels in subacute and chronic pain [22, 23].
In the acute pain situation, "avoidance" behaviours, such as resting, are effective in allowing the healing process to occur [
24
]. In chronic pain patients, the pain and disability appear to persist beyond the expected healing time for such a complaint. The danger is that a protracted period of inactivity, as a strategy for coping with the persistent pain may lead to a disuse syndrome (see Figure
1
). This is a detrimental condition. It is associated with physical deconditioning such as loss of mobility, muscle strength and lowered pain thresholds (allodynia). Consequently, the performance of daily physical activities may lead more easily to pain and physical discomfort. As a result, the avoidance of activity becomes increasing likely, as does the risk of chronicity. Cognitive-behavioural theorists have variously described this process that leads to chronicity stemming from pathological levels of fear / anxiety as "Fear of pain" [
25
], fear of physical activity and work [
26
,
27
], avoiders and confronters [
28
], kinesiophobia [
29
] and anxiety sensitivity [
30
].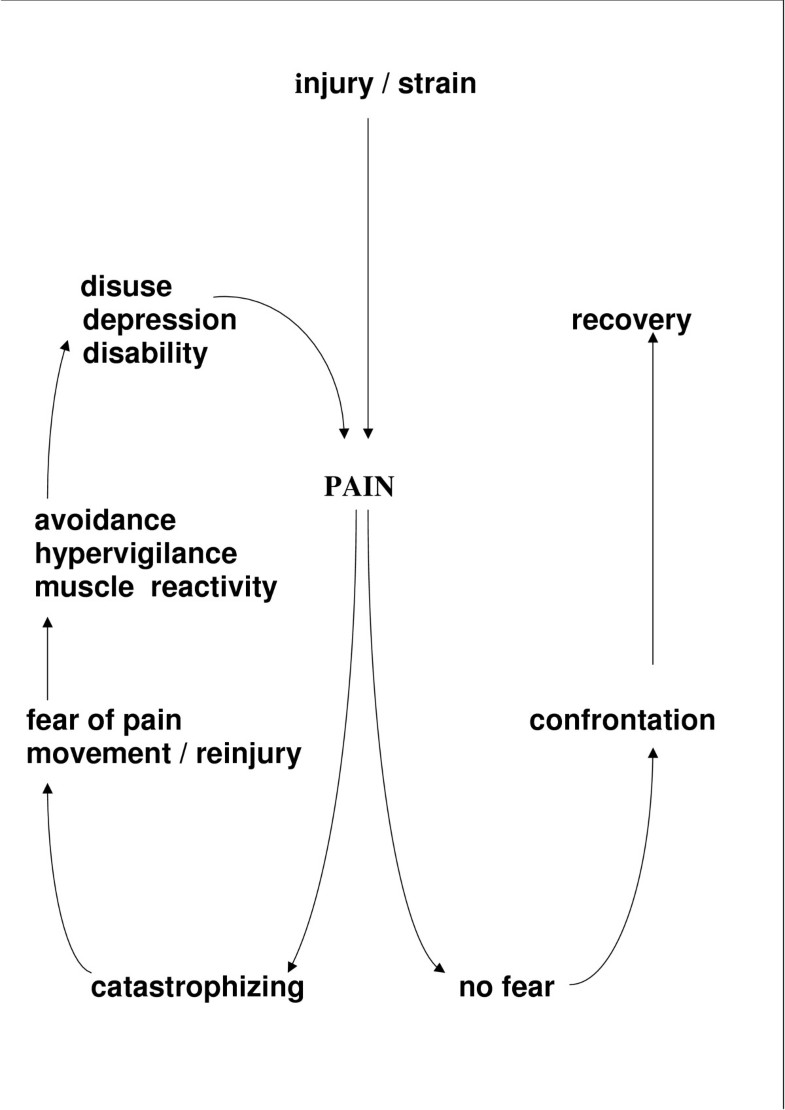 When a person experiences pain they experience varying degrees of psychological distress. A recent study suggests that as many as one third of people seeking care at physical therapists may have significant levels of distress [31]. Many dimensions of this process have been identified and their role posited in the development of chronicity.
One such example is catastrophic thinking processes and is broadly described as an exaggerated orientation towards pain stimuli and pain experience [32]. Negative appraisals about pain and its consequences have been postulated to be a potential precursor to persistent pain. People who consider pain as a serious threat to their health are more likely to become fearful as compared with those who approach pain as a trivial annoyance [33].
Pain-related fear can also contribute to disability through interference with cognitive functions. Fearful patients will tend more to possible signals of threat (hyper-vigilance) and will be less able to shift attention away from pain related information at the expense of other tasks, including actively coping with problems of daily life [34].
Although these and other factors such as coping strategies [35], sense of control [36], personality type [37], faith and religious beliefs [38], have been reported in literature (for a comprehensive review see Keefe et al.[44], the most significant and reproducible factors have been mood / depression and to a lesser extent somatization / anxiety [16, 39]. Depression has been associated with decreased pain thresholds and tolerance levels, reduced ability, general withdrawal and mood disturbance such as irritability, anhedonia (loss of enjoyment of good things in life), frustration and reduced cognitive capacity.
Somatization disorder is a chronic condition in which there are numerous physical complaints. It is perceived as very similar in nature to, and difficult to differentiate from an anxiety disorder [40]. The most common characteristic of a somatoform disorder is the appearance of physical symptoms or complaints for which there is no organic basis. Such dysfunctional symptoms tend to range from sensory or motor disability, and hypersensitivity to pain. This is a difficult and complex syndrome and is more fully dealt with elsewhere [41].
A mention should be made of occupational factors. Job dissatisfaction has repeatedly demonstrated itself to be a significant factor in disability / persistent pain studies. The most recent literature has implicated such factors as support from supervisors at work and low job control (i.e., inadequate power to make decisions and utilize one's skills) which can create distress, and, when perpetual, may result in ill health [42].
Conclusion
In sum, while this cognitive-behavioural model focused on fear / avoidance shows much promise; it has yet not been validated by the research to date [15]. There are studies in progress that may further our knowledge of identifying those at risk of progressing from acute to chronic [13]. Until the veracity of this model becomes further elucidated, depression and somatization / anxiety should be regarded as the central and dominant influencing psychological factors in the assessment for identification and intervention strategies.
Authors' Affiliations
(1)
Private Practice, Lilydale, Australia
Copyright
© Innes; licensee BioMed Central Ltd. 2005
This article is published under license to BioMed Central Ltd. This is an Open Access article distributed under the terms of the Creative Commons Attribution License (http://creativecommons.org/licenses/by/2.0), which permits unrestricted use, distribution, and reproduction in any medium, provided the original work is properly cited.