Illustrating risk difference and number needed to treat from a randomized controlled trial of spinal manipulation for cervicogenic headache
Chiropractic & Osteopathy
2010
18:9
Received: 5 March 2010
Accepted: 24 May 2010
Published: 24 May 2010
Abstract
Background
The number needed to treat (NNT) for one participant to benefit is considered a useful, clinically meaningful way of reporting binary outcomes from randomized trials. Analysis of continuous data from our randomized controlled trial has previously demonstrated a significant and clinically important difference favoring spinal manipulation over a light massage control.
Methods
Eighty participants were randomized to receive spinal manipulation or a light massage control (n = 40/group). Improvements in cervicogenic headache pain (primary outcome), disability, and number in prior four weeks were dichotomized into binary outcomes at two thresholds: 30% representing minimal clinically important change and 50% representing clinical success. Groups were compared at 12 and 24-week follow-up using binomial regression (generalized linear models) to compute the adjusted risk difference (RD) between groups and number needed to treat (NNT) after adjusting for baseline differences between groups. Results were compared to logistic regression results.
Results
For headache pain, clinically important improvement (30% or 50%) was more likely for spinal manipulation: adjusted RD = 17% to 27% and NNT = 3.8 to 5.8 (p = .005 to .028). Some statistically significant results favoring manipulation were found for headache disability and number.
Conclusion
Spinal manipulation demonstrated a benefit in terms of a clinically important improvement of cervicogenic headache pain. The use of adjusted NNT is recommended; however, adjusted RD may be easier to interpret than NNT. The study demonstrated how results may depend on the threshold for dichotomizing variables into binary outcomes.
Trial Registration
ClinicalTrials.gov NLM identifier NCT00246350.
Keywords
Risk DifferencePercent ImprovementSpinal ManipulationHeadache PainLight Massage
Background
The number needed to treat (NNT) for one participant to benefit from an intervention is considered a useful, clinically meaningful way of reporting binary outcomes from randomized trials [1, 2]. It is the number of participants that must be treated for one clinical event to be attributable to a treatment above and beyond the benefit from a control. NNT is computed as one divided by risk difference (RD), where the RD (also known as absolute risk or absolute risk reduction), is the difference in proportions of participants achieving a clinical benefit in the treatment and control groups. For example, there is a RD of 20% when 60% of the participants in the treatment group achieve a clinical success as compared to 40% of participant s in the control group. In this case, the NNT would be 5.0.
Reporting NNT and RD has been recommended for randomized trials in the CONSORT statement [3], but these statistics have not been well utilized [4]. These measures can reveal important effects of care that are not reflected in the odds ratio, a statistic often reported for binary data [5, 7].
Clearly, binary analysis is appropriate with naturally dichotomous variables, such as cure or death. When outcomes are evaluated as continuous variables, such as scales that measure pain intensity and functional disability, meaningful scale cut points must be identified to define the clinical result of interest. One reasonable cut point is the minimal clinically important difference or change to the participant. Ostello et al [8] reported the results of a literature review and expert panel. They concluded that a 30% improvement was a robust delineator of minimal important change across a number of pain and functional disability instruments. Thirty percent improvement was used in the UK BEAM trial for computing NNT [9]. Fritz et al [10] recommend using clinical success as an outcome, which they defined as 50% improvement in function disability for low back pain participants. The 50% improvement threshold is commonly reported in headache studies and we have previously reported this measure for headache pain and frequency [11].
We conducted a randomized trial evaluating the efficacy of spinal manipulation and comparing two doses of intervention provided by a chiropractor for the care of cervicogenic headache [11, 13]. Spinal manipulation had a clinically important advantage over light massage in headache pain, number, and disability; there was little effect of dose. A path analysis suggested that a trial on manipulation can be designed where expectancy and the participant-provider encounter have minimal effect on outcomes [12]. Also, cervical pain-pressure thresholds may be determinants of clinical outcomes [13]. Our primary publication emphasized the differences between groups evaluated on continuous data scales, but did not give perspective on the proportion of participants expected to benefit from spinal manipulation [11].
The purpose of this article is to report clinician-friendly outcomes, RD and NNT for a minimal clinically important change (≥30% improvement) and successful treatment (≥ 50% improvement), and to discuss some advantages and shortcomings of these summary measures. Also useful in practice for formulating prognosis are charts estimating the probability of achieving different levels of improvement following treatment. For researchers, statistical methods are recommended for adjusting RD and NNT for baseline differences between treatment and control groups.
Results
The study flow chart with details of adherence to treatment and compliance with follow-up are presented in Figure
1
with further details published elsewhere [
11
]. Participant adherence to study visits was 86% on average. Compliance with follow-up was 83% and 90% at 12 and 24 weeks, respectively. Baseline characteristics are presented in Table
1
. Participants were generally young and predominantly women. They averaged about four cervicogenic headaches per week and had a mean headache pain intensity of 54.3 (SD = 16.9) and mean disability of 45.0 (SD = 22.9). About a quarter were also migraine sufferers. Differences between groups were noted for headache pain and disability.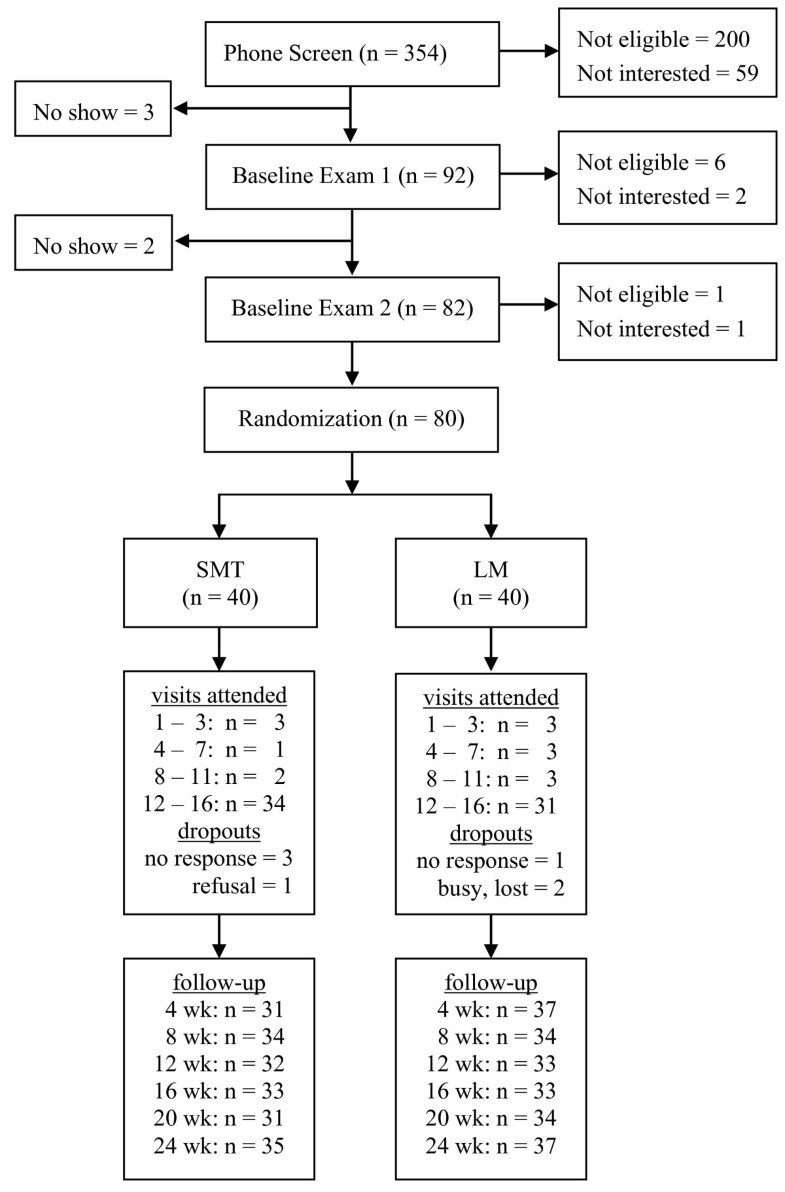 Table 1
Baseline participant characteristics*
SMT

(n = 40)

LM

(n = 40)

All

(n = 80)

Sociodemographic information

   Age (years)

37 ± 11

36 ± 11

36 ± 11

   Gender (female)

80%

80%

80%

Cervicogenic headache

   Pain intensity (100-point scale)

50.9 ± 17.0

57.8 ± 16.3

54.3 ± 16.9

   Number of headaches in the past 4 weeks

15.4 ± 8.0

16.0 ± 7.8

15.7 ± 7.9

   Disability (100-point scale)

42.7 ± 23.1

47.4 ± 22.9

45.0 ± 22.9

Migraine sufferer (self report)

30%

25%

28%

Optimal number of treatments (4 - 20)

   SMT

12.9 ± 4.9

12.5 ± 5.1

12.7 ± 5.0

   LM

14.3 ± 4.8

14.2 ± 5.4

14.3 ± 5.0

Expectations †

   Confidence in success of SMT

4.2 ± 1.2

4.1 ± 1.3

4.1 ± 1.3

   Confidence in success of LM

4.0 ± 1.2

4.1 ± 1.2

4.1 ± 1.2
Discussion
The analysis of percent improvement shows a benefit of spinal manipulation compared to a minimal light massage control at 12 and 24 weeks for the relief of cervicogenic headache pain. The evidence is not as consistent for the other outcomes, but some positive results were observed for headache number particularly in the short term.
The evidence-based practice movement favors the use of the NNT [33]; this requires dichotomizing continuous outcomes using a pre-determined threshold of benefit or success. Percent improvement thresholds yield complementary information to continuous scale data for interpreting a clinical outcome. For example, a 20-point improvement (on a 100-point scale) may be a large or small percentage depending on the baseline starting point. Alternatively, a 20-point improvement may be clinically important regardless of whether the improvement threshold criterion is met. Also, a 50% improvement may be clinically important despite the magnitude of change in the outcome score. It should be noted that a shortcoming of threshold percent improvement is that it is ultimately somewhat arbitrary. Table 2 gives a cautionary tale showing how the choice of a 30% or 50% threshold for treatment success can lead to different results in terms of RD, NNT, and statistical significance. This in turn can impact conclusions on the clinical importance of the target intervention.
It is our opinion that the RD is preferable to the NNT as an outcome measure because of the difficulty in interpreting the 95% CI of the NNT. If RD = 10% (95% CI = -5%, 20%), then we can say that one in 10 participants treated will have successful outcomes attributable to the treatment compared to the control. This is equivalent to saying it will take treating 10 participants to get one better (NNT = 10). The 95% confidence interval for the RD can be expressed as between one in 20 favoring the control (-5%) to one in four favoring the treatment (20%). The advantage of using the RD is that the confidence interval is easily interpretable: a small benefit favoring the comparison intervention to a sizable advantage for the index treatment. A value of zero clearly shows no difference between groups. There is no need to confront the perplexing 95% confidence interval of the NNT: 1) the inclusion of ± ∞ when results are not statistically significant and 2) confidence limits that get smaller in magnitude the further away they are from the null.
Expected improvement graphs (Figure 2) can be a most useful tool for the practicing clinician. Most importantly, they can be used for prognosis. Both participants and clinicians can see the chance of achieving different levels of improvement and form realistic expectations of treatment outcomes. The graphs are also easier to interpret than a table of means and standard deviations. The improvement rates for the control group could be included to add the perspective of improvement relative to a sham, no intervention, or other therapy. We did not include the control group in our graphs for ease of interpretation.
Technical notes on analysis
Adjusted RD and adjusted NNT are recommended to take into consideration baseline differences between groups on important predictors of outcomes. This is especially important in small studies where imbalances in baseline characteristics are more likely to occur. Binomial regression is a generalized linear model that can compute differences between groups after adjusting for baseline covariates when the dependent variable (outcome) is a proportion; it assumes a binomial distribution for the outcome measure [29, 30]. The shortcoming of binomial regression is that it uses an iterative algorithm that must converge to an RD estimate. Often the model fails to converge or gives a poor estimate of the RD [31]. One way to get around this is to run a logistic regression model to give an estimate of risk (probability of improvement in our study) for each individual. This risk can then be used to pre-specify the initial estimate of the mean for the dependent variable for the iterative process in binomial regression. This method was used for all our binomial regression analyses, because many models failed to converge without an initial estimate of the mean. In the two cases where the models still failed to converge, the following analysis was conducted.
An alternative analysis to binomial regression is ordinary least-squares multiple linear regression with the dependent variable coded as zero or one for the two values of the dichotomized outcome [31, 32]; this is also called modified least-squares regression when a robust standard error is used [31]. The usual estimate of the difference between group means (grouping variable regression coefficient) turns out to be an estimate of the difference between group proportions as in binomial regression.
Odds ratios from logistic regression are commonly reported in epidemiological studies. In randomized trials, logistic and binomial regression can give different perspectives on outcomes. For example, consider two experiments were the RD = 40% - 20% = 20% in one and 10% - 5% = 5% in the other. The RD of the first is four times that of the second, but the odds ratios are similar, 2.67 and 2.1, respectively [5]. Binomial regression is more difficult to use because of the convergence problem [31], but logistic regression cannot be readily used to compute the NNT.
Conclusion
The use of RD and NNT adjusted for baseline differences between groups in important determinants of outcomes is recommended for randomized trials with binary or dichotomized outcomes. The RD and its derivative the NNT are more clinician friendly than the odds ratios, and the RD in particular has an easier confidence interval to interpret than the NNT. Tabulation of the expected percentage of participants with successful care is a practical tool for the clinician.
Specifically in our study, spinal manipulation demonstrated a benefit in terms of a clinically important improvement of cervicogenic headache pain compared to a control when using a 30% and a 50% threshold for defining improvement. Our study demonstrated how results and interpretation may vary depending on the threshold chosen for dichotomizing continuous variables into binary outcomes.
Declarations
Acknowledgements
This study was supported by the National Center for Complementary and Alternative Medicine, National Institutes of Health, Department of Health and Human Services (grant no. R21 AT002324, R25 AT002880, and K99 AT004196).
Authors' Affiliations
(1)
University of Western States, Portland, USA
(2)
University of Pittsburgh, Pittsburgh, 6035 Forbes TowerUSA
Copyright
© Haas et al; licensee BioMed Central Ltd. 2010
This article is published under license to BioMed Central Ltd. This is an Open Access article distributed under the terms of the Creative Commons Attribution License (http://creativecommons.org/licenses/by/2.0), which permits unrestricted use, distribution, and reproduction in any medium, provided the original work is properly cited.