Subtle clinical signs of a meningioma in an adult: a case report
Chiropractic & Manual Therapies
2014
22:8
Received: 17 July 2013
Accepted: 17 December 2013
Published: 4 February 2014
Abstract
Background
Meningiomas are the most common brain tumor in the adult population. This case report describes the epidemiology, the clinical presentation as well as the current treatment options for this condition.
Case presentation
A 49 year-old man attended a chiropractic clinic with non-specific chronic low back pain. Upon the history taking and the systems review, he reported a loss of both smell and taste for which investigations conducted by two different otolaryngologists did not yield a specific diagnosis. The patient was referred to a neurologist who ordered a computer tomography scan that eventually revealed a compression brain tumor.
Brain tumors can produce a large variety of clinical presentations, such as upper motor neuron lesion symptoms, altered consciousness or vital functions which are easy to identify. However, subtle signs, such as those presented in this case, can be neglected.
Conclusion
Clinicians should be aware of uncommon clinical presentations including cranial nerve or neurological dysfunction and refer their patient to a specialist when detected.
Keywords
MeningiomaBrain tumorChiropracticCranial nerveNeurological dysfunction
Résumé (French language)
Introduction
Les méningiomes sont les tumeurs cérébrales les plus fréquemment rencontrées dans la population adulte. Cette étude de cas décrit l'épidémiologie, la présentation clinique ainsi que les options de traitement pour cette condition.
Présentation du cas
Un homme de 49 ans, s'est présenté à une clinique chiropratique ayant comme motif principal une lombalgie chronique non spécifique. L'anamnèse et la revue des systèmes ont révélé une perte de l'odorat et du goût, pour laquelle des examens menés par deux otolaryngologistes différents n'ont mené à aucun diagnostic précis. Le patient fut ensuite référé à un neurologue qui a ordonné une tomographie axiale révélant une tumeur compressive localisée au cerveau.
Les tumeurs cérébrales peuvent être responsables d'une grande variété de manifestations cliniques incluant des symptômes facilement reconnaissables, tels qu'une lésion des motoneurones supérieurs et une altération de la conscience ou des fonctions vitales. Toutefois, des signes plus subtils, tels que ceux présentés dans ce cas, peuvent être négligés.
Conclusion
Les cliniciens devraient être familiers avec les présentations cliniques inhabituelles liées aux méningiomes, y compris les désordres neurologiques. La référence des patients à un spécialiste est souhaitable aussitôt la problématique découverte.
Background
Meningiomas arise from arachnoidal cells of the leptomeninges and are the most common primary tumors of the central nervous system in adults [1]. Over the past decades, improved and more frequent use of brain imaging has resulted in an increase in the diagnostic incidence and prevalence of meningiomas [1]. According to the United States Central Brain Tumor Registry, meningiomas had the highest incidence and accounted for 35.5% of all primary brain tumors between 2005 and 2009 [2]. Age-adjusted incidence is more than twice as common in females and increases dramatically after age 65 [2]. Ninety–eight percent of meningiomas are reported to be non–malignant and are usually confirmed by either histological or radiographical studies [2]. The following case report highlights the importance of primary contact practitioners awareness to the presence of abnormal symptoms related to meningiomas. It also presents the crucial clinical findings that warrant referral for further investigation.
Case presentation
History
A 49 year-old male attended a chiropractic clinic with a history of nonspecific chronic low back pain. Upon further questioning, the patient mentioned a progressive decrease in sense of smell and taste which was reported as complete since the last two and a half years. Following medical consultation for this matter since a year ago, two otolaryngologists had been consulted and both conducted nasal and oesophageal endoscopies that were considered normal. Lifestyle review revealed an average consumption of four alcoholic beverages daily and sometimes up to forty-eight to seventy-two beverages weekly. The result of the CAGE questionnaire [3] which yielded two positive answers (need to cut down on drinking (C) and need a drink first thing in the morning (E: eyes opener)) out of four (annoyed by people criticizing your drinking (A) and ever felt guilty about drinking (G)) was in accordance with the patient acknowledgement of his alcohol problem. Past medical history revealed bilateral knee meniscectomy, right carpal tunnel surgical decompression, L4-L5 discectomy and excision of a benign cervical lipoma. The patient reported his health status as otherwise healthy and denied the presence of any constitutional symptoms.
Physical examination
Upper and lower limb neurological examination was bilaterally present, symmetric and rated as unremarkable for deep tendon reflexes, sensation and motor strength. Pathological reflexes were absent bilaterally. A cranial nerve exam revealed anosmia. In accordance with diagnostic imaging practice guidelines [4] cervical spine radiographs were ordered in light of the presence of central nervous system sign and symptoms. The radiological examination revealed postural anomalies, cervical degenerative disc disease and congenital non-union of the posterior arch of the atlas. Given the patient's age, his non-smoking status, absence of trauma, unremitting nature of the symptoms and lack of previous invasive investigation the chiropractor suspected a neurological compression from internal cause. The decision was made to refer the patient to a neurologist for further investigation of the decreased sense of smell and taste.
Intervention and outcome
A computer tomography (CT) scan ordered by the neurologist upon initial assessment revealed a 6 cm planum sphenoidale mass located in the frontal lobe, suggesting a benign meningioma (Figures
1
and
2
). The tumor was well circumscribed and no osseous abnormalities were detected. The patient underwent a frontolateral craniotomy with complete resection of the tumor mass. Post-surgical complication of a cerebrospinal fluid (CSF) leakage through the nasal cavity occurred 3 days later. A spinal tap was initially used to drain the CSF, but subsequent air accumulation within the intracranial cavity as visualized on CT led to a second surgical intervention. The dural breach was repaired through reconstruction of the anterior base of the ethmoid. No other surgical complication was reported and the pathological analysis confirmed a diagnosis of meningioma.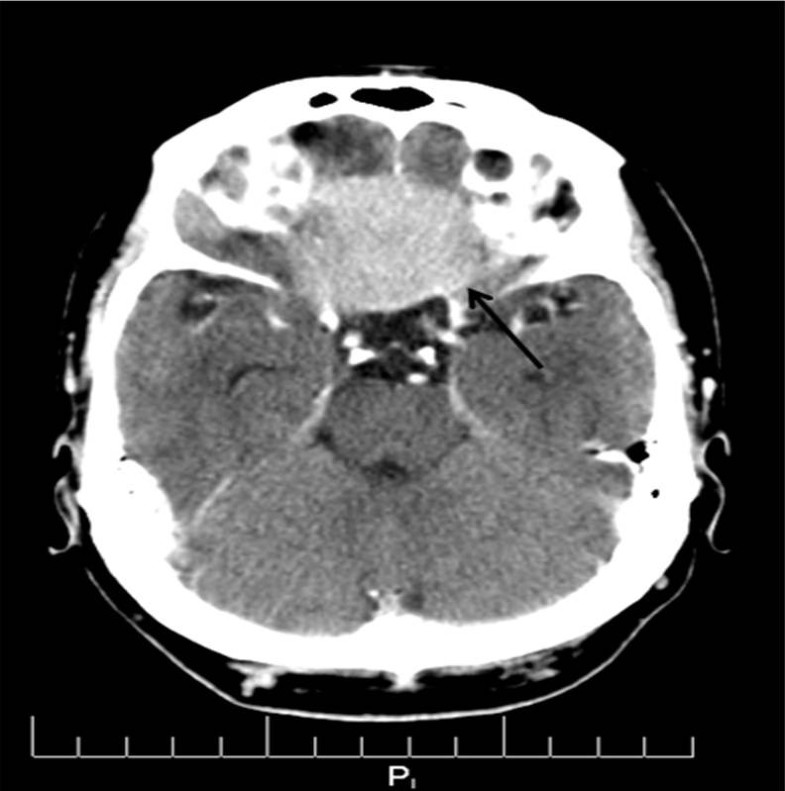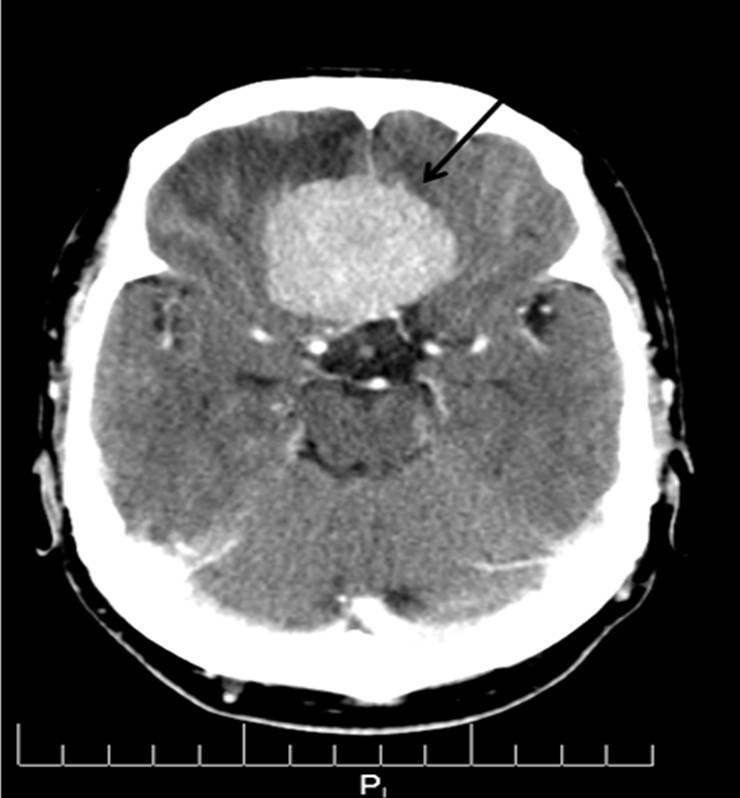 At one year follow-up, the patient did not report any neurological symptoms, except anosmia. No further surgical complications were reported. He had no limitations to his daily living activities and he returned back to work full time. Of interest, the patient's problem with alcohol resolved without treatment after the surgery.
Discussion
Meningiomas of the midline anterior skull base such as the olfactory groove meningioma presented in this case report are a rare clinical entity and represent about 10% of all intracranial meningiomas [5]. Olfactory groove meningioma (OGM) originates from the anterior cranial base, commonly at the cribriform plate of the ethmoid bone, planum sphenoidale or the frontospenoidal suture [6]. Arising from the weakest part of the skull base makes it prone to infiltration of the underlying bone. It also sometimes extend into the paranasal sinuses and nasal cavity, displacing the olfactory tracts laterally and the optic chiasm posteriorly [7]. The tumors are generally encapsulated and attached to the dura. OGMs receive their vascular supply primarily from the anterior and posterior ethmoidal arteries. Vascular contribution from the dura, anterior branches of the middle meningeal artery and the meningeal branches of the ophthalmic artery are also often seen [8].
Although there are several meningioma subtypes, (meningotheiomatous, fibrous, psammomatous) their identification has little prognostic value. Only clear cell meningiomas are thought to have clinical significance due to their aggressive behaviour [8]. Histologic features are used to classify meningiomas into one of the three World Health Organization (WHO) grades and are useful in predicting recurrence and survival rate. About 90% of tumors are grade I (benign) with a risk of recurrence after post-surgical resection of 7% to 20%. Incidence of grade II meningiomas (atypical) is 5% to 7%, with a recurrence rate of 40% whereas less than 3% are classified as grade III (malignant or anaplastic). Between 50% to 80% of malignant cases will recur [9].
Several risk factors for the development of meningiomas have been hypothesized, and until now, the literature does not reveal any clear association. Environmental risk factors such as exposure to ionizing radiation are currently acknowledged as the leading cause underlying meningioma formation [8]. As such, low dose exposure as it is the case in dental x-rays, is a common source of radiation in the general population. Increased risks of developing meningioma have been identified with having had a bitewing examination at any age (Odd ratio: 2.0) and panoramic films under the age of 10 years old (Odd ratio: 4.9) [10]. A population-based prospective cohort study which included 27,791 post-menopausal women has determined that low levels of physical activity, history of oophorectomy (unilateral or bilateral), high height and body mass index (BMI) in the years preceding diagnosis and history of uterine fibroids were associated with an increased risks of meningioma [11]. In a large case–control study examining the relationship between family, personal medical history and meningioma, the results suggested a positive association between meningioma and first-degree family members diagnosed at a young age, female related hormone and ionization radiation [12].
Conclusion
Although meningioma is the most common primary tumor in the nervous system in adults, it is a rare condition. In the presence of subtle clinical signs such as those presented in this case report, clinicians should keep a high index of suspicion for brain tumor. In the presence of uncommon neurological signs and symptoms, cranial nerve dysfunction or failed conservative therapy, clinicians should not hesitate to refer the patient for further evaluation as part of a complete management program.
Informed consent
Written informed consent was obtained from the patient for publication of this Case report and any accompanying images. A copy of the written consent is available for review by the Editor-in-Chief of this journal.
Authors' Affiliations
(1)
Canadian Memorial Chiropractic College (CMCC), Toronto, Ontario and Université du Québec à Trois-Rivieres (UQTR), Trois-Rivieres, Canada
(2)
Département de chiropratique, Université du Québec à Trois-Rivières (UQTR), Trois-Rivières, Canada
Copyright
© Marchand and O'Shaughnessy; licensee BioMed Central Ltd. 2014
This article is published under license to BioMed Central Ltd. This is an Open Access article distributed under the terms of the Creative Commons Attribution License (http://creativecommons.org/licenses/by/2.0), which permits unrestricted use, distribution, and reproduction in any medium, provided the original work is properly credited.