Subluxation: dogma or science?
Chiropractic & Osteopathy
2005
13:17
Received: 25 May 2005
Accepted: 10 August 2005
Published: 10 August 2005
Abstract
Subluxation syndrome is a legitimate, potentially testable, theoretical construct for which there is little experimental evidence. Acceptable as hypothesis, the widespread assertion of the clinical meaningfulness of this notion brings ridicule from the scientific and health care communities and confusion within the chiropractic profession. We believe that an evidence-orientation among chiropractors requires that we distinguish between subluxation dogma vs. subluxation as the potential focus of clinical research. We lament efforts to generate unity within the profession through consensus statements concerning subluxation dogma, and believe that cultural authority will continue to elude us so long as we assert dogma as though it were validated clinical theory.
Keywords
Spinal Manipulation
Clinical Meaningfulness
Chiropractic Care
Joint Dysfunction
Chiropractic Profession
Background
Status of a Construct
More than twenty years ago Donald K. Moon, D.C. wrote of a "flight from the subluxation" among chiropractors [1]. Dr. Moon, a firm believer in the validity of the traditional chiropractic lesion, bemoaned the dearth of scientific data to substantiate the construct, and warned of the possibility that medical researchers would step in to fill the void created by chiropractors' indolence. He decried the tendency among many chiropractors to pit diagnosis against spinal analysis (i.e., subluxation-detection), as though the two were mutually exclusive.
In the years since, some members of the profession have developed scientific skills, and a literature bearing on the usefulness of spinal manipulation, generated by chiropractors and others, has evolved [e.g., [2–5]]. In the United States several chiropractic colleges have been the recipients of federal funds for scientific investigations, and a consortial center for investigations has been established at Palmer College of Chiropractic with federal money. University-based chiropractic schools have been established in several nations [6], and the scholarly works of chiropractors are now much more widely disseminated in chiropractic and non-chiropractic periodicals. The profession may look upon these developments and say with some pride that, indeed, there is a small but meaningful scientific literature in chiropractic [7, 8].
Despite these accomplishments, many chiropractors preeminent theoretical construct remains unsubstantiated [9–11], and largely untested [12]. This lack of evidence may reflect a lack of interest among those with research skills; Nelson [11] observed that "clinical studies of the effectiveness of spinal manipulation are conducted and reported without reference to the presence or absence or even the existence of subluxations". The chiropractic subluxation stands pretty much today as it did at the dawn of the 20th century: an interesting notion without validation. And, as it has throughout the past century, D.D. Palmer's mediating variable remains a "bone of contention" between many chiropractors and the scientific community, as well as among chiropractors themselves.
Although books and monographs have been written about the presumed entity [e.g., [
13
–
16
]], and intra-professional political consensuses [
17
–
19
] have been reached on fuzzy conceptual definitions and unjustified claims (Table
1
), little if any substantive experimental evidence for any operational definition of the chiropractic lesion has been offered in clinical trials. Notwithstanding strong intra-professional commitment to the subluxation construct [
20
,
21
] and reimbursement strategies that are legally based upon subluxation [
22
], there is today no scientific "gold standard" (10) for detecting these reputedly ubiquitous and supposedly significant clinical entities, and inadequate basic science data to illuminate the phenomenon [
11
,
23
]. The chiropractic subluxation continues to have as much or more political than scientific meaning [
24
].
Table 1
Assertions about subluxation offered by several chiropractic organizations [17-19]
Association of Chiropractic Colleges

4.0 The Subluxation

Chiropractic is concerned with the preservation and restoration of health, and focuses particular attention on the subluxation.

A subluxation is a complex of functional and/or structural and/or pathological articular changes that compromise neural integrity and may influence organ system function and general health.

A subluxation is evaluated, diagnosed, and managed through the use of chiropractic procedures based on the best available rational and empirical evidence.

Chiropractic Association of Australia

...We recognise and respect a universal intelligence (or order) in all matter and an innate intelligence within a living organism that strives to preserve life and, if uninhibited, will express optimal well being.

We recognise that the practice of chiropractic focuses on the relationship between structure (primarily the spine) and function (as coordinated by the nervous system) and how that relationship affects the preservation and restoration of health.

We recognise that subluxations compromise the expression of innate intelligence, and that prevention and removal of subluxations will facilitate the expression of optimal health.

We respect, care about and are committed to the individual's holistic well being and emphasise the inherent recuperative power of the body to heal itself without the use of drugs or surgery.

We respect and value the importance of intellectual honesty, scientific and academic excellence and the maintenance of integrity in serving the individual, the community and the profession.

New Zealand Chiropractors' Association

Chiropractors use a technique of correcting vertebral subluxations called an adjustment. An adjustment is a carefully executed manoeuvre that usually results in a joint clicking as a sticky joint is released. Adjustments are usually painless, and enjoyable, because the improved mobility is usually immediately noticeable, and the health benefits are noticed soon after.

Benefits of Chiropractic Care

Feel Great Relief from Pain Improves Immunity Restores Nerve Supply More Energy Restores Mobility

Improves Athletic Performance More efficient Body Function Allows Better Sleep Back to Work Faster Improves Posture No Drugs

Slows the Aging Process No Surgery Quicker Recovery No Needles Add Life to Years Add Years to Life

How It Works

Chiropractic is based on the scientific fact that your nervous system controls the function of virtually every cell, tissue, organ and system of your body. While the brain is protected by the skull, the spinal cord is more vulnerable, covered by 24 moving vertebrae. When these bones lose their normal motion or position, they can irritate the nervous system. This disrupts the function of the tissues or organs these nerves control, and this is called vertebral subluxation complex.

Chiropractic is the science of locating these areas of spinal malfunction and the art of correcting them to allow the body to heal itself. As we all know, regardless of which type of doctor you consult, only the body can heal itself.
We believe that Dr. Moon's concerns were only partly justified. All in all, there has been no flight from the subluxation on the part of the field or its leaders [e.g., [
25
,
26
]], nor much move towards it either (on the part of the profession's scholars) [
12
]. The profession – its rank-and-file and political leadership (see Figure
1
) – has not abandoned the subluxation as an
a priori
principle guiding many of its activities. The chiropractic subluxation and subluxation-related beliefs permeate the practice of chiropractic, the marketing rhetoric offered by many chiropractors, the legal and political strategies pursued by various trade associations, and the sense of identity for many in the profession... all this for a hypothetical construct whose relevance for health and illness has yet to be established.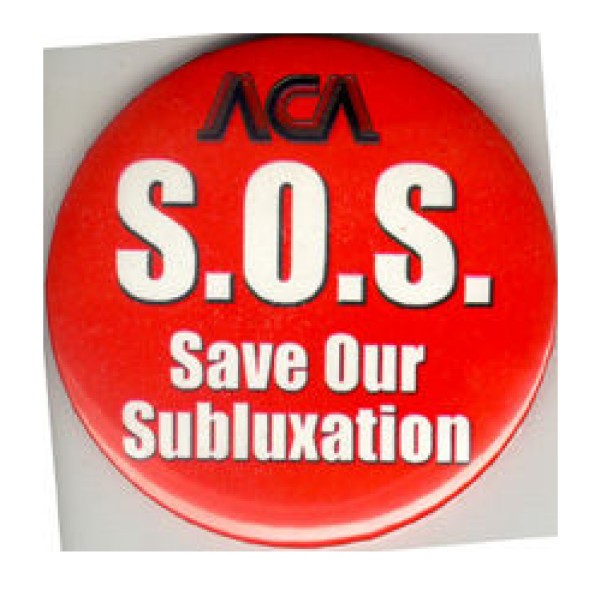 The traditional chiropractic lesion has not been the focus of systematic clinical research for the purpose of determining its meaningfulness (or lack thereof). In the absence of scientific validation, the propagation of unsubstantiated claims for many chiropractors favorite mediating variable is an obstacle to scientific credibility and cultural authority for the profession. It is our purpose to remind the profession of the implications and consequences of offering subluxation dogmatically, rather than as a plausible and testable proposition.
Summary
Hypothetical constructs involve tentative assertions about physical reality. They serve as essential tools in the development of science, and permit the empirical testing of the non-obvious. However, when the speculative nature of an hypothesis or hypothetical construct is not made obvious, an otherwise acceptable proposition becomes a dogmatic claim. Such is the history of subluxation in chiropractic.
This brief review of the role of subluxation dogma in clinical practice, in marketing, in the legal and political arenas, as a basis for professional identity, and in the rhetoric of leading chiropractic organizations and agencies, is not a statement about subluxation's validity or lack thereof. Only focused clinical research will enable us to determine whether the traditional chiropractic lesion merits clinicians' attention. We don't know whether subluxation is meaningful or not.
The dogma of subluxation is perhaps the greatest single barrier to professional development for chiropractors. It skews the practice of the art in directions that bring ridicule from the scientific community and uncertainty among the public. Failure to challenge subluxation dogma perpetuates a marketing tradition that inevitably prompts charges of quackery. Subluxation dogma leads to legal and political strategies that may amount to a house of cards and warp the profession's sense of self and of mission. Commitment to this dogma undermines the motivation for scientific investigation of subluxation as hypothesis, and so perpetuates the cycle.
The simple expedient of amending dogmatic assertions to note their tentative, hypothetical character could do much to improve the image of the profession, to re-orient it to the challenge of testing its cherished hypotheses and to establishing the cultural authority of chiropractors in our unique realm of health care. The task of reorienting the profession to a credible science and art belongs to all who understand the scourge of dogma, and who seek a brighter future for the chiropractic profession and its patients.
Authors' Affiliations
(1)
6135 North Central Avenue, Phoenix, USA
(2)
School of Medicine, Mayne Medical School, University of Queensland, Herston, Australia
(3)
Department of Graduate Education and Research, Canadian Memorial Chiropractic College, Toronto, Canada
(4)
Department of Clinical Sciences, College of Chiropractic, University of Bridgeport, Bridgeport, USA
(5)
Department of Chiropractic Procedures, Southern California University of Health Sciences, Whittier, USA
(6)
President, National University of Health Sciences, Lombard, USA
Copyright
© Keating et al; licensee BioMed Central Ltd. 2005
This article is published under license to BioMed Central Ltd. This is an Open Access article distributed under the terms of the Creative Commons Attribution License (http://creativecommons.org/licenses/by/2.0), which permits unrestricted use, distribution, and reproduction in any medium, provided the original work is properly cited.