The immediate effect of multiple mechanical impulses on electromyography and pressure pain threshold of lumbar latent trigger points: an experimental study
Chiropractic & Manual Therapies
2016
24:20
Received: 25 February 2015
Accepted: 9 May 2016
Published: 4 July 2016
Abstract
Background
Myofascial pain is a common syndrome, which has not been studied extensively in the low back. Despite a variety of manual and instrument assisted interventions available, little work has targeted the possible effects of fast mechanical impulses on myofascial trigger points (MTrPs) on its sensitivity and electrical activity. The purpose of this experimental study was to quantify the immediate effect of one session of mechanical impulses to lumbar latent MTrPs and to normal muscle tissue with pressure pain threshold (PPT) and surface electromyography (sEMG) as outcome measures.
Methods
During the autumn of 2009, in 41 asymptomatic subjects between 17-40 years of age the lumbar musculature was searched for a latent MTrP by a trained clinician. Using 3 disposable pre-gelled electrodes bilaterally, sEMG was recorded continuously from muscle containing either latent or no MTrP. Both the trigger point group and control group received the intervention and were blinded to group allocation. The immediate effects of mechanical impulses were assessed by sEMG and PPT before and after intervention using Wilcoxon matched-pairs signed-ranks test, Mann–Whitney U test and paired t-tests.
Results
The PPT increased significantly across both groups (p < 0.01) after intervention. The proportionate increase (14.6 %) was comparable in both MTrP and control groups. The electrical activity on the MTrP side was not significantly higher in the MTrP group compared to the contralateral side. The decrease of resting electrical activity after intervention was significant in the MTrP group on the side of the latent MTrP (P = 0.001) as well as the contralateral side (p=0.022), and not significant in the control group on either side (p=0.33 and p=0.93).
Conclusion
In this study, the immediate effect of one session of mechanical impulses was associated with a significant increase in PPT for both groups and a significant decrease in the resting electrical activity of the lumbar muscles only in the MTrP group. It is unknown if these effects have clinical significance.
Keywords
Myofascial pain syndromeTrigger pointLow backLatent trigger pointTender pointSurface EMGElectromyographyPressure pain thresholdMechanical impulses
Background
Myofascial pain is a clinical problem that has generated interest, debate and confusion for decades [1–3]. According to studies anywhere between 33 and 97 % of patients with musculoskeletal pain visiting physicians and manual therapists are diagnosed with myofascial pain syndrome (MPS) [4, 5]. MPS is commonly misdiagnosed and overlooked by clinicians who are unfamiliar with this [6]. It is a complex form of neuromuscular dysfunction associated with functional deficits and broader symptomatology. It consists of soft tissue and sensory abnormalities involving both the peripheral and central nervous systems. Additionally, recent data suggest that neurogenic inflammation, wide dynamic range neurons and limbic system structures likely play pivotal roles in muscle sensitisation, pain chronification, somato-visceral interactions and the objective physical findings of allodynia, hyperalgesia and referred pain patterns [7].
MPS can be associated with, but may not be caused by, an active myofascial trigger point (MTrP) [1]. A MTrP is defined as a discrete, hyperirritable nodule in a taut band of skeletal muscle that is palpable and tender during physical examination [8, 9]. Clinically MTrPs can be classified as active or latent. Latent MTrPs may develop further into active MTrPs depending on the ongoing noxious mechanical or chemical stimulation [10–13]. An active MTrP is associated with spontaneous pain in the immediate surrounding tissue and/or to distant sites in specific referred pain patterns. A latent MTrP is not associated with spontaneous pain, however digital pressure on the nodule elicits local pain at the site and can sometimes refer pain [13]. This referral may be a result of sensitisation from long term nociceptive subthreshold signals, through opening of previously ineffective synapses [14]. Latent MTrPs show similar physical characteristics to active MTrPs, hence can also be associated with muscle stiffness, dysfunction, restricted joint range of motion, as well as autonomic dysfunction though for latent MTrPs all to a lesser degree [1, 8, 15].
The same implies for the prevalence of endplate noise or spontaneous electrical activity (SEA) being higher in active MTrPs than in the latent ones and absent in normal muscle tissue [16]. This SEA has been correlated with muscle tension and the formation of the taut band [17], pain intensity and pressure pain threshold [16]. Recent evidence suggests an important role of SEA and impaired motor control strategy at MTrPs in the induction of muscle pain and central sensitisation [18]. Besides surface electromyography (sEMG) studies on the effect of latent MTrPs on the host muscles [19], studies have shown increased electrical activity during movement of their synergists [20], decreased reciprocal inhibition of the antagonist [21] and significantly impaired muscle activation patterns during loaded and unloaded movement [22, 23]. Latent MTrP may have such an influence on muscles that could restrict athletes from performing at full capacity [22]. These characteristics and implications of latent MTrPs mentioned above make not only active but also latent MTrPs a significant concern [17].
The diagnostic accuracy of MPS had been questioned due to a paucity of studies substantiating the objectivity of physical findings. But a number of studies have now validated the physical examination findings of MTrP. These include magnetic resonance elastography [24, 25] and ultrasonoelastography [26–28]. These imaging procedures are research tools and are not clinically useful at this time. Although there is some interest in MTrP ultrasound guided needling or injection, MTrP identification by manual palpation is rapid and has proven to be reliable between trained examiners [29–32]. The criteria for diagnosis and their relative importance have evolved over time. For example, MTrP perturbation does not always produce a local twitch response or a predictable pain referral pattern, which were criteria in the past [1].
Specific to the lower back, the paraspinal muscles are commonly involved in non-specific LBP [4]. Active MTrP in muscles like the erector spinae or quadratus lumborum can be associated with pain felt as a band in the low back with occasional radiation to the buttock or into the testicles as well as difficulty with straightening up [3]. Despite the prevalence of both low back pain and MPS, MTrPs have not been studied extensively in the low back.
Current approaches for management of MPS have been reviewed elsewhere [1, 33] and include pharmacological (anti-inflammatory, analgesic, narcotic medications, topical creams, injections) and nonpharmacological interventions (manual therapies, laser therapy, dry needling). Although a number of recent reviews and meta-analyses have focused on needling, the effectiveness of manual therapy should not be overlooked, and may possibly be just as effective as needling [34]. Although many of the manual treatment methods stay the same or are only slightly modified (all include some form of mechanical pressure), it is the underlying theory as to why they are effective that continues to evolve with further study [1]. Modalities and manual treatments are often clinically effective for deactivating active MTrPs and desensitizing sensitized spinal segments [34]. They are and should be used as a first line of treatment before more invasive therapies are attempted [1]. Instrument-assisted manipulation is used as a treatment method by chiropractors to decrease stiffness of the spinal joints and muscles [35]. However, to date no studies have been done on the effects of multiple mechanical impulsive thrusts on MTrP.
Methods
This experimental study aimed to quantify the immediate effect of one session of mechanical impulses on latent MTrPs and normal muscle tissue using pressure pain threshold (PPT) and sEMG as outcome measures. A second aim was to investigate the effect of the presence of a latent MTrPs on the electrical activity of the muscle involved compared to muscle tissue without latent MTrPs.
Results
Five subjects were excluded due to current low back pain, leaving 41 participants that met all selection criteria and completed the study (Fig.
2
). The sample consisted of 25 males (61 %) with mean (SD) for age 24 (5.4) and pre-intervention PPT 4.5 kg/cm
2
(1.5) and 16 females (39 %) with mean (SD) for age 22 (3.0) and pre-intervention PPT 3.7 kg/cm
2
(1.2). The PPT between males and females was considered not significant in this sample (
P
 = 0.087; 95 % CI (-0.1 to 1.6). In 38 subjects (92 %) a latent MTrP was found based on palpation criteria alone. Eight subjects had a PPT that was higher than expected in normal muscle tissue and were during analysis redirected to the control group (Fig.
2
). Based on both palpation and gender specific PPT criteria a latent MTrP was present in 73.2 % of subjects (the MTrP group).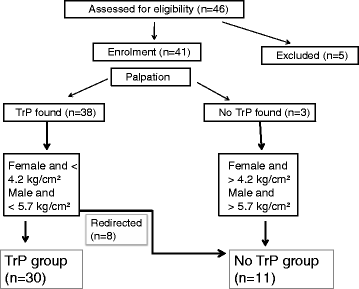 The mean post-intervention increase in PPT was significant for both the MTrP group (0.45 kg/cm
2
;
P
 = 0.01; CI 0.11-0.8 kg/cm
2
) and the control group (0.82 kg/cm
2
;
P
 = 0.03; CI 0.09–1.54). The increase in PPT values between the MTrP group and the control group was found to be similar (
P
 = 0.33), using the unpaired
t
-test with Welch correction (Fig.
3
and Table
1
).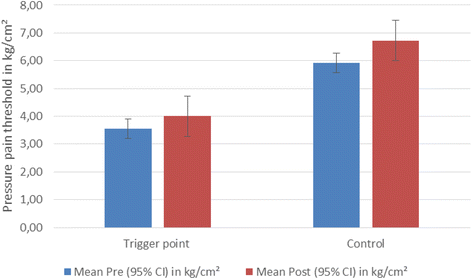 Table 1
Comparison of the mean and significance of the differences in pressure pain threshold pre-and post-intervention in the trigger point group (n = 30) versus the control group (n = 11) versus all subjects (n = 41).
| | Trigger point | Control | All subjects |
| --- | --- | --- | --- |
| | n = 30 | n = 11 | n = 41 |
| Mean Pre (95 % CI) in kg/cm2 | 3.55 (3.20–3.90) | 5.91 (5.18–6.64) | 4.18 (3.73–4.64) |
| Mean Post (95 % CI) in kg/cm2 | 4.00 (3.56–4.44) | 6.73 (5.77–7.68) | 4.73 (4.18–5.29) |
| Difference (95 % CI) in kg/cm2 | 0.45 (0.11–0.80) | 0.82 (0.09–1.54) | 0.55 (0.25–0.85) |
| Change in proportion | 14.60 % (3.09–26.12) | 14.30 % (2.11–26.49) | 14.52 % (5.76–23.29) |
| P value | 0.011 | 0.030 | 0.001 |
The mean pre-intervention resting electrical activity of the MTrP group (n = 30) were not significantly different between the MTrP side and the contralateral side (3.27 μV; SD 3.64 and 3.1 μV; SD 3.36 respectively; P = 0.3). Similarly, in the control group (n = 11) this mean pre- intervention resting electrical activity on the intervention side (1.67 μV; SD 1.02) was not significantly different from the contralateral side (1.4 μV; SD 1.13; P = 0.33).
According to the rank test there was a significant (
P
 = 0.001) change in the resting electrical activity post-intervention on the latent MTrP side in the MTrP group (in 23 subjects the EMG activity decreased post-intervention, 7 increased) the mean decreased from 3.27 μV (SD ± 3.64) to 2.69 μV (SD ± 2.75) (Table
2
). In the control group this was not significantly decreased (
P
 = 0.33) from 1.67 μV (SD 1.02) to 1.40 μV (SD 1.13). The contralateral side in the MTrP group did also decrease significantly (
P
 = 0.022), from 3.1 μV (SD 3.36) to 2.77 μV (SD 2.95), the amplitude decreased in 19 subjects and 9 subjects increased. The changes were non-significant (
P
 = 0.93) in the control group 1.77 μV (SD 1.07) to 1.76 μV (SD 1.5), 7 subjects had decreased electrical activity post-intervention and 4 increased.
Table 2
Presentation of the mean resting sEMG pre- and post-intervention in the trigger point group (n = 30) and the control group (n = 11).
| sEMG in μV | Trigger point group | Control group |
| --- | --- | --- |
| Baseline mean intervention side (±SD) | 3.27 (SD 3.64) | 1.67 (SD 1.02) |
| Baseline mean contralateral side (±SD) | 3.1 (SD 3.36) | 1.77 (SD 1.07) |
| Post-intervention mean intervention side (±SD) | 2,69 (SD 2.75) | 1.40 (SD 1.13) |
| Post-intervention mean contralateral side (±SD) | 2.77 (SD 2.95) | 1.76 (SD 1.5) |
| Pre-post change significance intervention side | P = 0.001 | P = 0.33 |
| Pre-post change significance contralateral side | P = 0.022 | P = 0.93 |
The mean heart rate pre-intervention was 65 beats per minute (SD 10) and post-intervention 64 beats per minute (SD 9). The difference of the heart rate between pre-and post-intervention was not significant (P = 0.09) and 95 % CI (−0.2–2.4).
Discussion
To our knowledge, this is the first study to evaluate the effects of latent MTrP in the low back using sEMG. It is also the first study that looks at the effect of multiple mechanical impulsive thrusts on MTrPs in the low back. This experiment and its results should be viewed as a preliminary study.
The presence of latent TrPs is common in the general population [3, 10, 15, 33, 51, 52]. We found at least one latent MTrP in the low back in 73 % of asymptomatic subjects, which is high compared to other studies [53–55]. For example, the lumbo-gluteal muscles in 100 asymptomatic control subjects were examined and 45 % of the subjects were found to have latent MTrPs in the quadratus lumborum muscle [53]. The point prevalence, in a more recent study of latent MTrPs in the quadratus lumborum and iliocostalis lumborum muscles in asymptomatic controls was between 5 % and 10 %, while latent MTrPs were found in the same muscles mentioned on each side in 15 to 20 % of patients with chronic nonspecific low back pain (n = 42) [54]. When looking at other regions, 154 asymptomatic adults were examined for the presence of latent TrPs in the scapular positioning muscles and approximately 90 % of this population had at least one trigger point in these muscles [52]. Another study found that latent TrPs produced focal tenderness in shoulder girdle muscles in 54 % of female participants and in 45 % of male participants [56]. Of these participants n = 200, 25 % exhibited referred pain on digital compression. Referred pain is however more commonly encountered when inserting a needle in a latent MTrP than firm compression and is not common in normal muscle tissue [21]. In our study 5 subjects (17 %) exhibited referred pain on digital compression, while none in the control group.
Several reasons could explain the difference in the point-prevalence of MTrPs found in this study compared to others mentioned above. One of them is that reproducibility, in this context, is not strictly speaking confined to the skill of manual palpation. In fact, only the identification of the taut band is purely a touch skill. The other MTrP diagnostic criteria are either observations (local twitch response and jump sign), established through patient feedback (pain referral and patient pain recognition), or are a hybrid (local tenderness is felt for but confirmed by patient feedback) [57]. Secondly, MTrP criteria do not appear universally present in every muscle group [1]. Thirdly this population might be different to the ones in the other studies as students may have had a period of increased lumbar muscular loading.
Conclusion
On the basis of the results from this study one session of mechanical impulses was associated with a decrease in pain sensitivity in the low back musculature regardless of whether the muscle was normal or contained a latent trigger point. The intervention was associated with a significant decrease in the resting electrical activity solely in the trigger point group. This study should be considered exploratory in nature.
Availability of data and materials
The dataset supporting the conclusions of this article is included within the article and its additional files.
Abbreviations
AECC:

Anglo-European College of Chiropractic
CI:

confidence interval
MPS:

myofascial pain syndrome
MTrP:

myofascial trigger point
PPT:

pressure pain threshold
RC:

reference contraction
SD:

standard deviation
SEA:

spontaneous electrical activity
sEMG:

surface electromyography
Declarations
Acknowledgements
BA wants to acknowledge Professor Jef Vlegels for the contribution to the statistical analysis and interpretation of the data.
Open AccessThis article is distributed under the terms of the Creative Commons Attribution 4.0 International License (http://creativecommons.org/licenses/by/4.0/), which permits unrestricted use, distribution, and reproduction in any medium, provided you give appropriate credit to the original author(s) and the source, provide a link to the Creative Commons license, and indicate if changes were made. The Creative Commons Public Domain Dedication waiver (http://creativecommons.org/publicdomain/zero/1.0/) applies to the data made available in this article, unless otherwise stated.
Authors' Affiliations
(1)
Graaf van Landaststraat 17, Oudenaarde, Belgium
(2)
Anglo-European College of Chiropractic, Bournemouth, UK
Copyright
© Ameloot and Bagust. 2016