The accuracy of diagnostic ultrasound imaging for musculoskeletal soft tissue pathology of the extremities: a comprehensive review of the literature
Chiropractic & Manual Therapies
2015
23:31
Received: 5 February 2015
Accepted: 16 October 2015
Published: 5 November 2015
Abstract
Musculoskeletal diagnostic ultrasound imaging (MSK-DUSI) has been growing outside the traditional radiology speciality. Increased use of this technology has been reported in several healthcare settings, however an apparent gap in the knowledge of the accuracy of this diagnostic technology indicated a review was warranted. We undertook a structured review of the literature to assess the accuracy of MSK-DUSI for the diagnosis of musculoskeletal soft tissue pathology of the extremities. An electronic search of the National Library of Medicine's PubMed database (1972 to mid-2014) was conducted. All relevant systematic reviews of diagnostic studies, all diagnostic studies published after the date of the latest systematic reviews and relevant diagnostic studies outside the scope the systematic reviews that directly compared the accuracy of MSK-DUSI (the index test) to an appropriate reference standard for the target condition were included. A fundamental appraisal of the methodological quality of studies was completed. The individual sensitivity, specificity and likelihood ratio data were extracted and entered into diagnostic accuracy tables. A total of 207 individual studies were included. The results show that MSK-DUSI has acceptable diagnostic accuracy for a wide spectrum of musculoskeletal conditions of the extremities. However, there is a lack of high quality prospective experimental studies in this area and as such clinicians should interpret the results with some caution due to the potential for overestimation of diagnostic accuracy.
Keywords
Rotator CuffCarpal Tunnel SyndromeUlnar Collateral LigamentPatella TendinopathyHamstring Injury
Background
Musculoskeletal ultrasound (MSK-US) is a non-ionizing imaging modality, which is relatively inexpensive, portable, safe and rapid [1–4]. MSK-US should be considered in two distinct sub-categories. 1) Musculoskeletal diagnostic ultrasound imaging (MSK-DUSI) which primarily focuses on the morphological characteristics and structural integrity of the neuromusculoskeletal system [5–7]. 2) Rehabilitative ultrasound imaging (RUSI) which evaluates muscle and related soft tissue morphology and function during exercise and physical tasks [8, 9].
Historically, diagnostic ultrasound imaging (DUSI) has been utilised in medicine since the early 1950's [5, 7]. In the following decades, DUSI became well-established in clinical obstetrics, gynaecology and cardiology [5]. In 1972, the first clinically significant application of DUSI was used in musculoskeletal medicine; where it was used to differentiate Baker's cysts from thrombophlebitis [10]. This paper led to the logical extension of DUSI in musculoskeletal medicine seen today. The primary use of MSK-US continues to be used for traditional diagnostic imaging purposes, allowing real-time, dynamic evaluation of neuromusculoskeletal structures, including but not limited to joints, tendons, ligaments, muscles and nerves [5–7].
In the 1980's, a new branch of MSK-US was developing. Young and colleagues used MSK-US to accurately measure muscle atrophy post-injury, aging on muscle size and the relationship between muscle size and strength in different populations [11–13]. This work established RUSI [7]. In the past two decades, a series of studies highlighted the use of RUSI to detect abnormal lumbar multifidus and transverse abdominus muscle morphology and activation patterns in patients with acute and chronic lower back pain [7]. In addition, researchers utilising RUSI found that recovery of these muscles was not automatic when pain subsided, but required specific training to re-activate them [7]. This has cemented RUSI, particularly in physiotherapy practice, where RUSI has been used to monitor the recovery of these muscles [7]. Concurrently, adult spinal MSK-DUSI created a high degree of interest among groups of chiropractors for the evaluation of spinal canal diameters, facet, intervertebral disc and nerve root pathology [14–21]. However, this was soon abandoned due to technological factors such as inadequate depth of penetration, lack of penetration of spinal structures and poor image resolution resulting in limited accuracy and clinical utility [14, 22–30].
In the past decade, interest in MSK-DUSI among non-radiologists has made a resurgence [31] and has attracted the attention of many chiropractic practitioners. The use of MSK-DUSI in clinical practice has nearly quadrupled in the United States since the 2000's and is also an expanding area in Europe, driven primarily by increased utilisation by non-radiologists [3, 31]. This can be attributed to recent advances in conventional two-dimensional (2D) ultrasound technology [32–36]. Recent refinements in 2D ultrasound technology, such as broadband transducers are now available at frequencies greater than 15 MHz that allow visualization of superficial and deep structures with resolutions approaching that of standard T1 and T2 magnetic resonance imaging (MRI) sequences [33]. Ultrasound machines are now available as compact, portable systems (typically the size of a notebook computer), which are on average available at less cost than the conventional cart-based systems. [32, 33] Although the cart-based systems allow for extra features including: greater image and patient information archive capacity and more ultrasound mode options (i.e. 2D, Doppler, harmonic mode etc.), the mid-range compact, portable systems are cheaper and have similar image resolution [32, 34]. Reduced machine cost, portability, improved image resolution and increased diagnostic accuracy have influenced MSK-DUSI growth among non-radiologists and interest among chiropractors.
A review of the literature revealed a current paucity of studies examining the utility of MSK-DUSI within chiropractic environments. The majority consist of experimental studies assessing the normal or abnormal sonographic appearance of anatomy [37–42]; several case reports demonstrating the importance of subsequent MSK-DUSI when plain films are unremarkable [43–46]; and a few commentaries [14, 16]. One pilot study by Hung et al. [47] showed that it may be feasible to teach senior chiropractic students an area of normal sonographic anatomy. This is consistent with other professions demonstrating an ability to train novice interpreters to a standard of that of an experienced interpreter [48–51]. Extrapolations of these studies suggest it may be feasible to teach the sonographic appearance of other body regions to novice interpreters. Although the literature on the topic is limited, current observational trends of increasing accessibility to MSK-DUSI training for chiropractors suggest that a growing body of literature may emerge.
MSK-DUSI has been reported as a valid technique for imaging a wide variety of neuromusculoskeletal conditions [52]. However, it is important to emphasise with the current state of the technology the utility of MSK-DUSI is typically limited to the diagnosis of superficial pathology of the extremities. MSK-DUSI has little use in the spine other than landmark identification for injection purposes by medical professionals and research. Nonetheless, a high percentage of chiropractic patients undergoing diagnosis and treatment have musculoskeletal complaints of the extremities [53, 54]. Improving patient care is pivotal in all healthcare professions and by developing the utility of MSK-DUSI in the chiropractic profession may allow for earlier, accurate diagnosis and therefore, better patient management and outcomes. MSK-DUSI involves no ionising radiation, meaning it is safe for patients. Accessibility is increasing as costs of the systems diminish. Portability allows efficient and accurate 'in office' scanning as a potential extension to physical examination for certain anatomic areas. MSK-DUSI has become an accurate, prompt, relatively inexpensive and readily available method of imaging the neuromusculoskeletal system. This presents new opportunities within the chiropractic profession to improve patient care and research.
The growing appeal of MSK-DUSI among the chiropractic profession can be observed from the recent accessibility to tailored courses and through the growing number of published research papers [14–16, 37–46]. The appropriate use of imaging is essential in all healthcare professions for accurate patient diagnosis and management as well as optimising the use of healthcare resources. However, the instrument of measurement needs to be reliable and valid. Therefore, this review investigated the evidence currently available on the accuracy of diagnostic ultrasound for the diagnosis of musculoskeletal soft tissue pathology of the extremities.
Results
In total, the search strategy identified 6321 citations. After removing duplicates, there were 3894 potentially eligible titles and abstracts. Once the titles and abstracts of these citations were screened, 332 potentially eligible articles remained. These full-text articles were reviewed for eligibility, 95 studies (12 systematic reviews and 83 diagnostic studies) were included in the final review. The individual studies in the systematic reviews totalled 124 and when added to the other 83 diagnostic studies amounted to 207 individual studies. The full results of the search strategy are presented in a flow chart (Fig.
1
).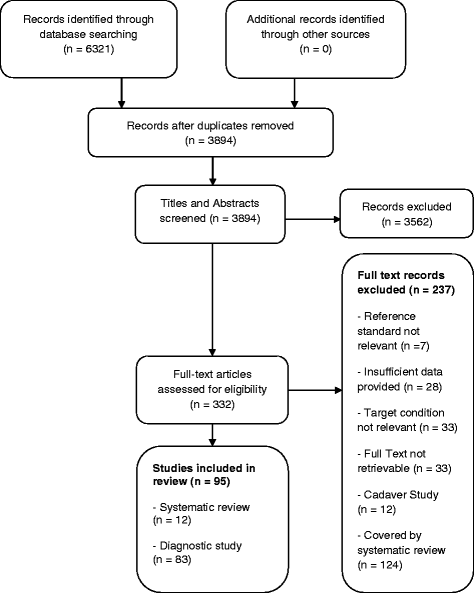 Discussion
Diagnostic ultrasound is a common imaging modality used to assist in the diagnosis of musculoskeletal complaints when the clinical picture is uncertain [34]. The aim of this study was to undertake a comprehensive review of the literature to assess the diagnostic accuracy of MSK-DUSI for the diagnosis of soft tissue pathology of the extremities. All musculoskeletal soft-tissue conditions identified by the ESMR and ACR MSK-DUSI guidelines were included in this review [3, 55]. This review does not cover the entire utility of this technology.
This discussion section is divided into sub-sections. These relate to the anatomical areas discussed in the results section and include shoulder, elbow, wrist/hand, hip, knee, and ankle/foot.
Conclusion
The purpose of this article was to undertake a structured review of the literature to assess the accuracy of diagnostic ultrasound for the diagnosis of musculoskeletal soft tissue pathology of the extremities. The results of this review indicated that MSK-DUSI has good diagnostic accuracy for the detection of a wide spectrum of soft tissue conditions of the extremities. As such, MSK-DUSI is recommended as a non-invasive, relatively cheap, accurate, quick and accessible imaging modality for a variety of soft tissue conditions of the extremities. However, the current evidence base presents with some limitations. Overall, there is a lack of high quality literature on the diagnostic accuracy of MSK-DUSI for a variety of clinically indicated conditions and future research should be considered a high priority.
Abbreviations
2D:

2-dimensional
3D:

3-dimensional
CT:

Computed tomography
EMG:

Electromyography
LCL:

Lateral collateral ligament
LR-:

Negative likelihood ratio
LR+:

Positive likelihood ratio
LTL:

Lunotriquetral ligament
MPP:

Medial patella plica
MRA:

Magnetic Resonance Arthrography
MRI:

Magnetic Resonance Imaging
MSK-DUSI:

Musculoskeletal diagnostic ultrasound imaging
MSK-US:

Musculoskeletal ultrasound imaging
NCS:

Nerve conduction study
PET:

Positron emission tomography
QUADAS:

Quality Assessment of Diagnostic Accuracy Studies
RUSI:

Rehabilitative ultrasound imaging
SLL:

Scapholunate ligament
SnS:

Sensitivity
SpC:

Specificity
STARD:

Standards for Reporting Studies of Diagnostic Accuracy
TFCC:

Triangular fibrocartilage complex
UCL:

Ulna collateral ligament
Declarations
Open AccessThis article is distributed under the terms of the Creative Commons Attribution 4.0 International License (http://creativecommons.org/licenses/by/4.0/), which permits unrestricted use, distribution, and reproduction in any medium, provided you give appropriate credit to the original author(s) and the source, provide a link to the Creative Commons license, and indicate if changes were made. The Creative Commons Public Domain Dedication waiver (http://creativecommons.org/publicdomain/zero/1.0/) applies to the data made available in this article, unless otherwise stated.
Authors' Affiliations
(1)
Private Practice of Chiropractic, Spearwood, Australia
(2)
Associate Professor, Discipline of Chiropractic, School of Health Professions, Murdoch University, Murdoch, Australia
(3)
Senior Lecturer, Discipline of Chiropractic, School of Health Professions, Murdoch University, Murdoch, Australia
(4)
, Coolbellup, Australia